Krkal 1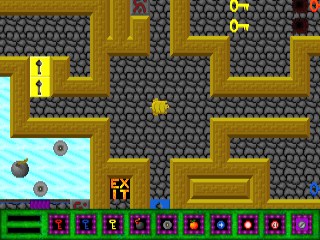 Krkal 1 is a puzzle action top-down DOS game.
You'll try to control one of three characters, you'll help them overcome all obstacles and make them to the exit. The game is based on these obstacles (game objects) - they are various, their volume is large and they mutually complement each other.
In Krkal you'll find for example traditional keys and locks, conveyor belts, ice, explosives, monsters, switches, mirror directed lasers, magnets and much, much more. Thanks to this the game can offer highly various levels.
Krkal 1 was created in 1996 to 1997. It is in Czech language only and today it can be played under DOSBox.
Warning: In later levels the game gets hard!
Download Krkal 1 (license) (DosBox settings)
Source codes at GitHub
Screenshots
Game Objects
Controls
Play in browser:
If the game is sluggish, try speed up cycles: Ctrl+F12
Unfortunately it's not possible to save progress in browser. If you like the game, for better experience try to download it and play it in full-fledged DossBox.